Circular No: 075/2023
Date: 7 July 2023
---
Dear Members of the Kuala Lumpur Bar,
We just received an email notification on 7 July 2023 from the Kuala Lumpur Court regarding the above.
Please be informed that waterproofing works will be carried out in stages at the Kuala Lumpur Court Complex on weekends starting from 8 July 2023 until 6 August 2023.
To avoid any unforeseen incidents, we strongly recommend that members refrain from parking their vehicles in the relevant areas of the car park during the specified dates.
Click here to view the layout of the areas affected during each stage.
The said email notification from the Kuala Lumpur Court is reproduced below.
Alvin Oh Seong Yew
Chairman
Kuala Lumpur Bar Committee
Nimalan Devaraja
Shugan Raman
Co-Chairpersons
Civil Practice & Court Liaison Committee
---
No. Rujukan: MKL.200-7/4/1 Jld. 5 (100)
Tarikh: 7 Julai 2023
YBhg. Dato'/Datin/Tuan/Puan,

PEMAKLUMAN UNTUK PENGOSONGAN KAWASAN LETAK KENDERAAN DI KOMPLEKS MAHKAMAH KUALA LUMPUR
Dengan segala hormatnya saya merujuk perkara di atas.
2. Dimaklumkan bahawa terdapat kerja-kerja semburan lapisan kalis air di KMKL secara berperingkat mengikut ketetapan seperti berikut: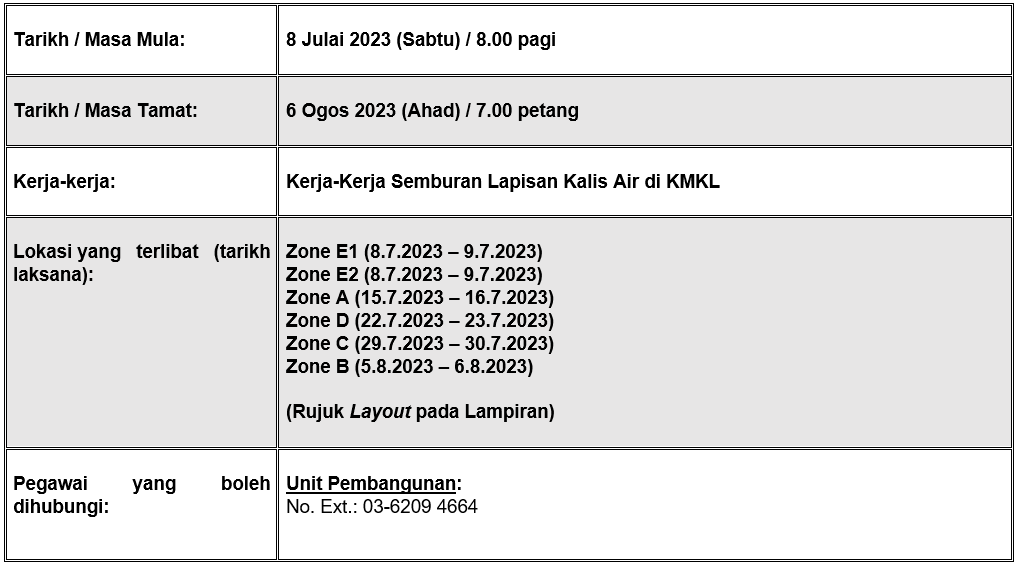 3. Sehubungan itu, mohon kerjasama pihak YBhg. Dato'/Datin/Tuan/Puan juga agar tidak meletakkan kenderaan di tempat parkir yang terlibat bagi menggelakkan perkara yang tidak diingini berlaku. Bersama-sama ini dikemukakan Layout kawasan yang terlibat sewaktu kerja-kerja dijalankan adalah seperti di Lampiran untuk rujukan dan makluman pihak YBhg. Dato'/Datin/Tuan/Puan.
Sekian, terima kasih.
"MALAYSIA MADANI"
"BERKHIDMAT UNTUK NEGARA"
Saya yang menjalankan amanah,
Unit Pembangunan & Senggara
Bahagian Pengurusan
b.p. Pengarah
Mahkamah Kuala Lumpur