Circular No: 130/2020
Date: 26 October 2020
---
Dear Members of the Kuala Lumpur Bar,
We refer to our KLBC Circular No 113/2020 dated 24 September 2020.
We have received a notification from the Director of e-Courts, Puan Hamidah Binti Mohamed Deril regarding the above matter.
The said notification is reproduced below for your attention and information.
Thank you.
Regards,
Harleen Kaur (Leena)
Nizam Bashir
Co-Chairpersons
Civil Practice and Court Liaison Committee
---
Assalamualaikum. Salam Sejahtera.
Tuan/ Puan,
Dengan hormatnya saya merujuk kepada perkara di atas dan e-mel Bahagian e-Kehakiman bertarikh 18 September 2020 adalah berkaitan..
2. Untuk makluman Tuan/ Puan, selaras dengan perkembangan semasa mengenai Perintah Kawalan Pergerakan oleh pihak Kerajaan, terdapat perubahan lokasi untuk peluasan Sistem e-Kehakiman. Peluasan sistem e-Kehakiman ke Kelantan dan Pulau Pinang pada tarikh mulai 19 hingga 23 Oktober telah dibatalkan dan digantikan dengan lokasi-lokasi Mahkamah seperti berikut: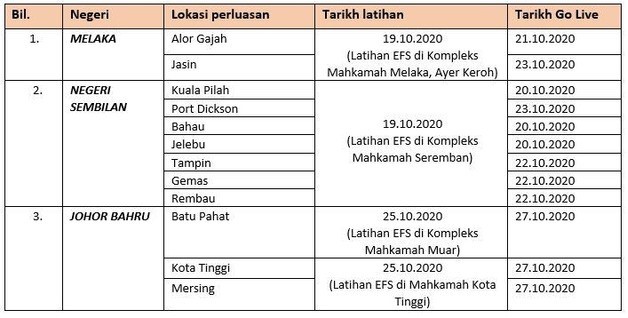 3. Kerjasama Tuan/ Puan adalah dimohon untuk memaklumkan jadual pelaksanaan peluasan dan latihan Sistem e-Kehakiman kepada semua peguam dan pihak-pihak yang terlibat supaya proses pendaftaran pengguna, permohonan sijil digital dapat diselesaikan sebelum tarikh pelaksanaan sistem di lokasi peluasan.
4. Sebarang pertanyaan lanjut boleh dikemukakan dengan menghubungi Puan Najlaa atau Puan Rosnaida di talian 03-8880 3529 / 3914 / 4152 atau melalui emel di ekehakiman@kehakiman.gov.my.
5. Segala perhatian dan kerjasama YBhg. Tan Sri/ Datuk/ Dato'/ Tuan/ Puan dalam perkara ini adalah amat dihargai dan diucapkan berbanyak-banyak terima kasih.
Sekian, terima kasih.
"BERKHIDMAT UNTUK NEGARA"
Saya yang menjalankan amanah,
(HAMIDAH BINTI MOHAMED DERIL)
Pengarah
Bahagian e-Kehakiman
b/p Ketua Pendaftar
Mahkamah Persekutuan Malaysia
Aras 3, Istana Kehakiman
Presint 3, 62506 Putrajaya
Telefon : 03 88803531