Circular No: 158/2023
Date: 24 October 2023
---
Dear Members of the Kuala Lumpur Bar,
We have received an email notification on 23 October 2023 from the Kuala Lumpur Court regarding the above.
Kindly be informed that Phase 11 of the upgrading works to be carried out in the Kuala Lumpur Court Complex is scheduled to begin on Thursday, 26 October 2023.
Accordingly, the pertinent Courts involved in Phase 11 will be transitioning to the temporary Courtrooms starting from Wednesday, 25 October 2023. The upgrade works are scheduled to be completed on 8 November 2023 for Courtroom 26 and 26 November 2023 for Courtrooms 5, 7 & 84.
There are changes involving three (3) Courts in the Phase 11 schedule. Click on the links below to view the latest schedule provided by the Kuala Lumpur Court in respect of the transitioning of the Courts:
The said email notification from the Kuala Lumpur Court is reproduced below.
Alvin Oh Seong Yew
Chairman
Kuala Lumpur Bar Committee
Nimalan Devaraja
Shugan Raman
Co-Chairpersons
Civil Practice & Court Liaison Committee
---
No. Rujukan: MKL.200-7/4/1 Jld. 6 (30)
Tarikh: 23 Oktober 2023
Puan,
HEBAHAN PERALIHAN MAHKAMAH BAGI PELAKSANAAN KERJA-KERJA PENGGANTIAN KARPET DAN SISTEM SPRINKLER DI KOMPLEKS MAHKAMAH KUALA LUMPUR – FASA 11
Dengan segala hormatnya saya diarah merujuk perkara di atas.
2. Sebagaimana puan sedia maklum, Kerja-Kerja Penggantian Karpet dan Menaik Taraf Sistem Sprinkler telah dilaksanakan mulai 3 Januari 2023 di 84 Mahkamah mengikut Fasa seperti emel pemakluman yang telah diemelkan kepada puan bertarikh 15 Disember 2022 namun begitu, terdapat perubahan pada jadual bagi Fasa 11 yang melibatkan 3 mahkamah (Rujuk pada Lampiran).
3. Dalam perkara ini, puan adalah dipohon untuk membuat persediaan peralihan mahkamah pada 25 Oktober 2023 (Rabu) dan penyerahan kunci mahkamah transit dibuat pada hari tersebut jam 4.15 petang (sebarang pertanyaan, sila berhubung dengan Unit Keselamatan). Berikut adalah mahkamah yang terlibat: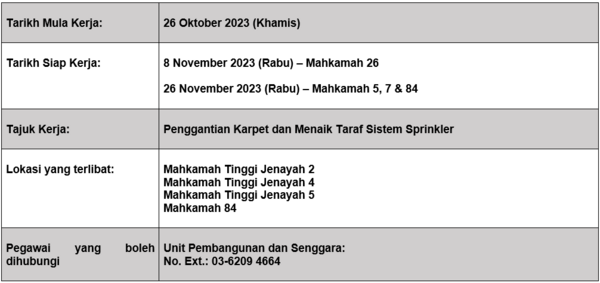 4. Sehubungan itu, mohon kerjasama puan untuk mengambil langkah-langkah keselamatan sebelum berpindah di mahkamah transit adalah seperti berikut:
memastikan semua almari / locker / laci meja / kabinet besi hendaklah dikunci;
memastikan tiada fail atau dokumen terperingkat serta barangan peribadi di dalam kamar hakim dan mahkamah terbuka;
memastikan semua punca kuasa peralatan elektrik ditutup sebelum berpindah keluar ke mahkamah yang telah ditetapkan;
bilik simpanan barang kes hendaklah dikosong;
segala urusan pengalihan fail / dokumen adalah dibawah tanggungjawab pegawai/kakitangan mahkamah masing-masing; dan
sebarang pergerakan aset tidak dibenarkan (telefon adalah dikecualikan).
Segala kerjasama dan perhatian puan dalam perkara ini amatlah dihargai.Sekian, terima kasih.
"MALAYSIA MADANI"
"BERKHIDMAT UNTUK NEGARA"
Saya yang menjalankan amanah,
Unit Pembangunan & Senggara
Bahagian Pengurusan
b.p. Pengarah