Circular No: 157/2021
Date: 7 July 2021
---
Dear Members of the Kuala Lumpur Bar,
Please take note that the Kuala Lumpur Traffic Court has set the following replacement dates for vacated mentions. These mentions are with regard to summons by the Royal Malaysian Police (PDRM) and the Road Transport Department Malaysia (JPJ):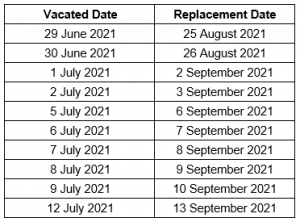 For further queries on traffic matters, members may email the designated court interpreter at nadiahibrahim@kehakiman.gov.my
Members are also advised to check the EFS website for new dates of their matters from time to time.
Kindly be advised.
Vivekananda Sukumaran
Chairman
Kuala Lumpur Bar Committee
Collin Arvind Andrew
Chairperson
KLBC Criminal Law Practice Committee