Circular No: 107/2023
Date: 11 August 2023
---
Dear Members of the Kuala Lumpur Bar,
We have received an email notification on 8 August 2023 from the Kuala Lumpur Court ("MKL") regarding the matter mentioned above.
Kindly note that the MKL will be carrying out enhancement works starting from 30 August 2023 until 30 June 2024 to upgrade the Plaza at Level 1, and the Court Cafeteria in the Basement.
The Court Cafeteria will be closed throughout this period. Members will be subsequently notified of the new location for the purchase of food and beverages.
The said email notification from the Kuala Lumpur Court is reproduced below.
Alvin Oh Seong Yew
Chairman
Kuala Lumpur Bar Committee
Nimalan Devaraja
Shugan Raman
Co-Chairpersons
Civil Practice & Court Liaison Committee
---
No. Rujukan: MKL.200-7/4/1 Jld. 6 (10)
Tarikh: 7 Ogos 2023
YBhg. Dato'/Datin/Tuan/Puan,
PEMAKLUMAN KERJA-KERJA MENAIKTARAF DI PLAZA KOMPLEKS MAHKAMAH KUALA LUMPUR
Dengan segala hormatnya saya diarah merujuk perkara di atas.
2. Dimaklumkan bahawa terdapat Kerja-Kerja Menaiktaraf di Plaza, KMKL mengikut ketetapan seperti berikut: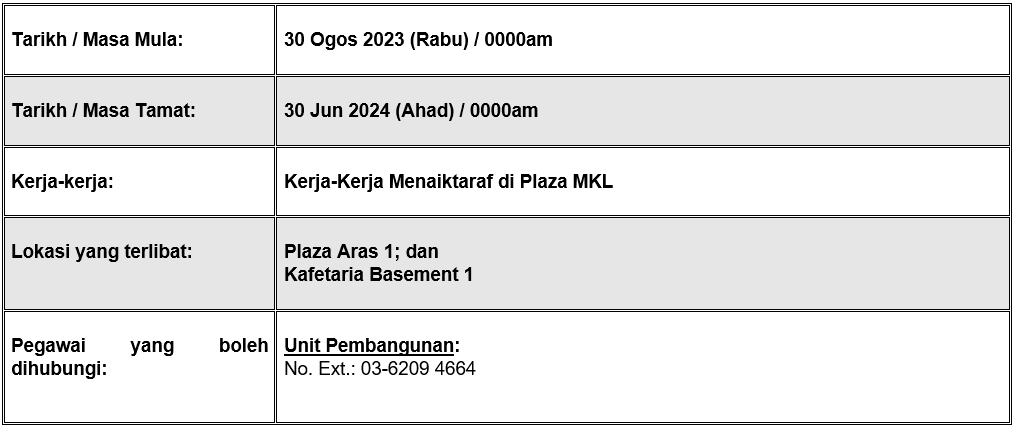 3. Dalam perkara ini, dimaklumkan juga Kafetaria MKL di B1 akan ditutup sepanjang tempoh kerja-kerja tersebut dilaksanakan dan pihak Pengurusan MKL akan menyediakan tempat-tempat bagi jualan makanan dan minuman yang akan dimaklumkan kelak. Segala kerjasama dan makluman YBhg. Dato'/ Datin/ Tuan/ Puan dalam perkara ini amat dihargai dan didahului ucapan ribuan terima kasih.
Sekian.
"MALAYSIA MADANI"
"BERKHIDMAT UNTUK NEGARA"
Saya yang menjalankan amanah,
Unit Pembangunan & Senggara
Bahagian Pengurusan
b.p. Pengarah
Mahkamah Kuala Lumpur