Circular No: 150/2022
Date: 14 October 2022
---
Dear Members of the Kuala Lumpur Bar,
We have just received an email notification from the Kuala Lumpur Court Complex ("KMKL") regarding the above.
Kindly note that the facility Manager of the KMKL will be switching off the electricity supply throughout the KMKL building from Friday, 14 October 2022 at 6:00pm until 16 October 2022 at 2:00am.
The said email notification is reproduced below for further information.
Vivekananda Sukumaran
Chairman
Kuala Lumpur Bar Committee
Nimalan Devaraja
Lim Yin Faye
Co-Chairpersons
Civil Practice & Court Liaison Committee
---
No. Rujukan: MKL.200-7/4/5 Jld. 10 (39)
Tarikh: 14 Oktober 2022
Tuan/Puan,
HEBAHAN PENUTUPAN BEKALAN ELEKTRIK BAGI SISTEM MEKANIKAL DAN ELEKTRIK DI KOMPLEKS MAHKAMAH KUALA LUMPUR
Dengan segala hormatnya saya merujuk perkara di atas.
2. Dimaklumkan bahawa Niat Suci Sdn Bhd selaku Pengurus Fasiliti Bangunan MKL (FM) akan melaksanakan PENUTUPAN BEKALAN ELEKTRIK di Kompleks Mahkamah Kuala Lumpur seperti ketetapan berikut: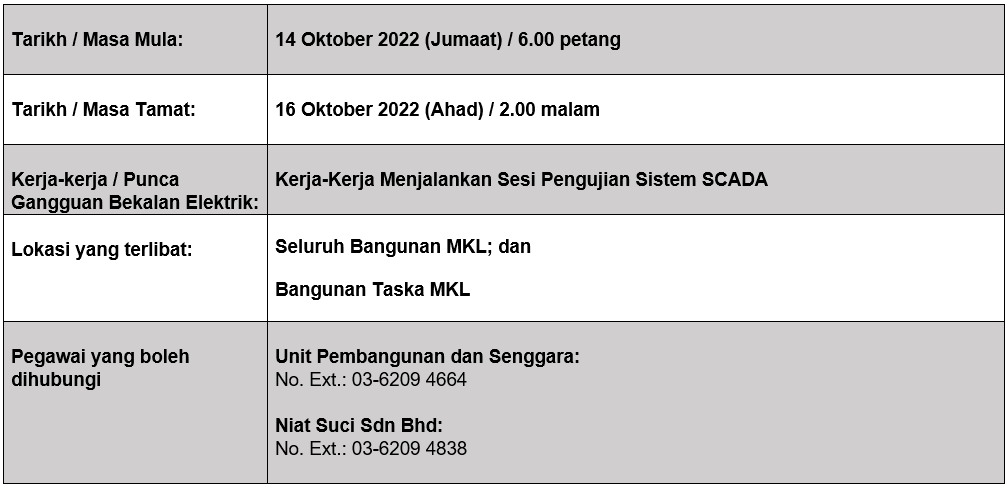 3. Sehubungan itu, mohon kerjasama pihak Tuan/Puan untuk memastikan semua peralatan elektrik di ruang kerja masing-masing ditutup bagi mengelakkan sebarang kerosakan semasa dan selepas kerja-kerja pengujian tersebut dilaksanakan.
4. Sekian untuk makluman.
Terima kasih.
"WAWASAN KEMAKMURAN BERSAMA 2030″
"BERKHIDMAT UNTUK NEGARA"
Saya yang menjalankan amanah,
Unit Pembangunan & Senggara
Bahagian Pengurusan
b.p. Pengarah
Mahkamah Kuala Lumpur