Circular No: 068/2021
Date: 12 April 2021
---
Dear Members of the Kuala Lumpur Bar,
The Kuala Lumpur Bar Committee has just received a notification from the Director of the Kuala Lumpur Courts regarding the above matter.
Please be informed that there are changes of courts and locations for Narcotics and Commercial Crime cases within the jurisdiction of the Kuala Lumpur Sessions Court involving Criminal Sessions Court 3, 6 and 10.
The said notification is reproduced below for your attention and further information.
Vivekananda Sukumaran
Chairman
Kuala Lumpur Bar Committee
Collin Arvind Andrew
Chairperson
KLBC Criminal Law Practice Committee
---
Perubahan Mahkamah dan Lokasi bagi Kes-Kes Jenayah Narkotik dan Komersil di dalam Bidang Kuasa Mahkamah Sesyen Kuala Lumpur
YBhg. Dato'/Datin/Tuan/Puan,
Dengan segala hormatnya perkara di atas dirujuk.
2. Sukacita dimaklumkan perubahan mahkamah dan lokasi bagi kes-kes Jenayah Narkotik dan Komersil di dalam bidang kuasa Mahkamah Sesyen yang melibatkan Mahkamah Sesyen Jenayah 3, Mahkamah Sesyen Jenayah 6 dan Mahkamah Sesyen Jenayah 10 di Mahkamah Kuala Lumpur adalah seperti berikut:-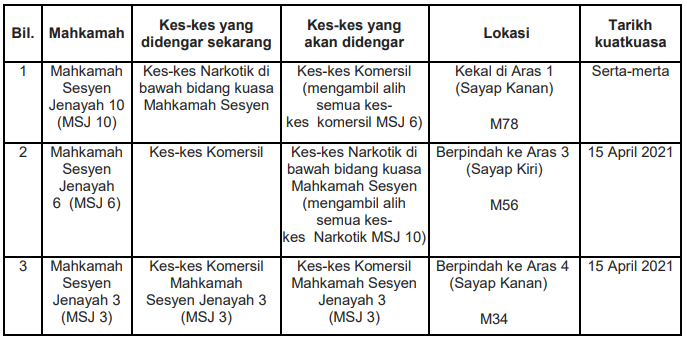 3. Perhatian dan kerjasama YBhg. Dato'/Datin/Tuan/Puan amat dihargai.
Sekian, terima kasih.
"PRIHATIN RAKYAT: DARURAT MEMERANGI COVID-19"
"BERKHIDMAT UNTUK NEGARA"
Saya yang menjalankan amanah,
AHMAD KAMAR BIN JAMALUDIN
Pengarah
Mahkamah Kuala Lumpur