Tales from the Bar: A Civil Practice and Court Liaison Social on 20 October 2017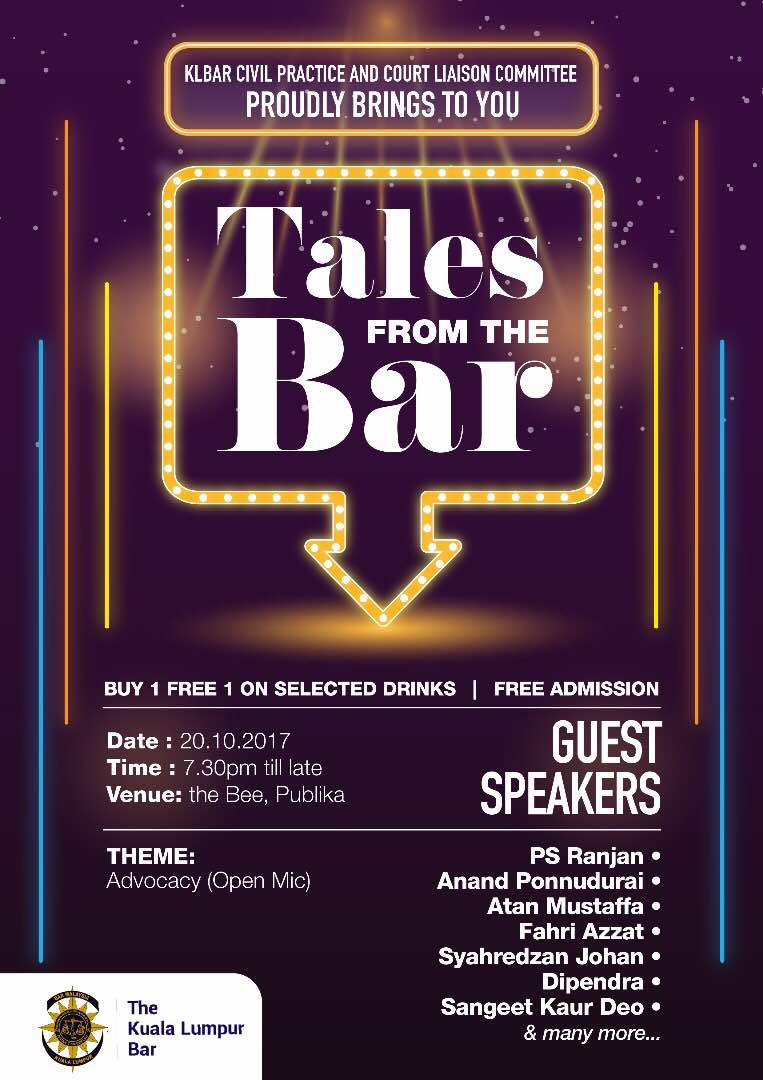 Ever wondered if other practitioners face the same situations and predicaments that you do?
Ever wondered how do they handle or overcome it?
Ever wondered WHY ME?!
The KLBC Civil Practice and Court Liaison Committee cordially invites you to unbutton your wingtip collars, loosen your bands and hang your robes up to attend our get-together, "Tales From the Bar:Practice and Even More Practice".
It would be our pleasure to have you enjoy a light-hearted Friday evening together with our fellow members and esteemed guest speakers coming from a spectrum of senior members.
The guest speakers who will take the stand on that night include  P.S. Ranjan, Nik Elin Zurina, Anand Ponnudurai, Robyn Choi, Atan Mustaffa, Fahri Azzat, Richard Wee Thiam Seng, H.R. Dipendra and Sangeet Kaur  to regale us with their most entertaining yet insightful stories from their experience at the Bar. Watch them as we put them on the spot with our games throughout the night!
Seize the opportunity to rub shoulders and clink glasses in a laidback and fun-filled setting and vicariously take in the experience shared by the guest speakers.
Who knows? You might pick up some tips on how to obtain that order in terms you need.
Selected Drinks will be priced at buy 1 free 1, all night!
Event: Tales From the Bar
Date: 20th October 2017
Time: 7:30pm
Venue: The Bee, Publika
Muhendaran Suppiah and Vivek Sukumaran
Co-Chaipersons
Civil Practice and Court Liaison Committee