Request for Feedback on Criminal Practice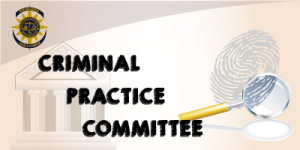 The Criminal Practice Committee (CPC) is gathering issues/challenges faced by members in dealing with the respective agencies related to criminal practice in Kuala Lumpur.
The purpose is to address any pertinent issues/challengers and also to find a way to ease any regulatory requirements so that criminal practice is made easier. Issues gathered will be compiled in the CPC Complaints Log which the CPC is initiating this term.
Please fill your details  and your comments/feedback in the form below.
Kindly revert your feedback no later than 15 May 2017.
If you have any other enquiries, kindly email to yati@klbar.org.my.
Shashi Devan Thalmalingam
Chairperson
Criminal Practice Committee